Sometimes in the UK it is not possible to immediately build a beautiful garden shed at the same time as the main house building. As a result, harmony is disrupted and the pleasant impression of the entire landscape design on the site, no matter how beautiful it may be, is destroyed. Let's consider how you can disguise a garden shed with your own hands.
Hiding walls behind greenery
Outbuildings, which are on every suburban or household plot, are rarely beautiful. To harmoniously fit the garden shed into the overall landscape design, you can use a variety of greenery, perfectly masking the structure from the ground to the roof. Rectangular outdoor flowerpots with decorative flowers, vines or a large number of planters attached to the wall will be especially good here.
Landscaping of the roof
Landscaping the roofs of outbuildings is another way to make an unsightly object of a household plot a harmoniously fitting element of landscape design. On a flat roof, you can arrange a beautiful flower garden, and ennoble the slopes with lawn grass. Some designers are able to turn a garden shed into a rockery, a grassy or rocky hill. And only the entrance to the building will show what it really is.
Masking with lattices or fruit frames
You can use a decorative lattice or pergola to disguise an unsuccessful garden shed in terms of aesthetics. They can be decorated with various climbing plants or flower pots. This is a very good option for decorating a barn.
Design of sheds with the help of painting
You can design sheds with the help of painting. To do this, paint the whole shed or just paint one of its walls in a different color. It will play the role of a background or screen for the exposure you have invented. For example, one wall can be painted in a dark color, and then tall bright flowers planted around the perimeter of the garden shed will look especially advantageous against its background.
Arrange an exhibition wall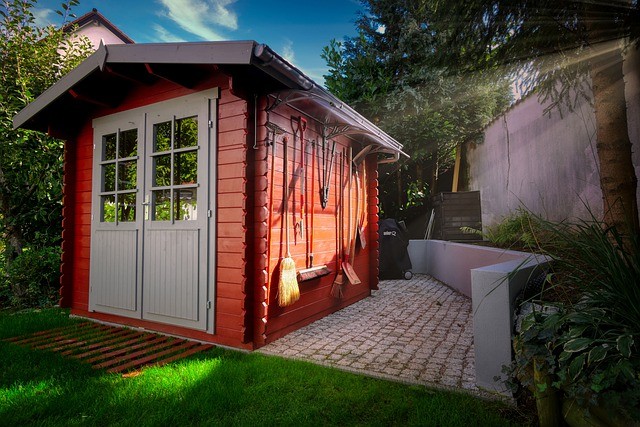 Make light-colored the wall of the building that you would like to hide. Then arrange an exhibition of household items, a hobby exhibition, an exhibition of teapots, mugs or fishing lures on it. Thus, many old unnecessary things can become original exhibits of your garden.