Landscaping a tiered garden on a slope is much more difficult than on a flat area. At the same time, under such conditions, it is possible to implement a wide variety of ideas for multi-level design: alpine slides, groups of plants and stones, as well as terrace systems with winding paths. The landscape design of the garden on the slope always provides for an individual approach and requires compliance with certain rules:
It is best to place the house on the top of a hill, then the design of the land area will be easier.
When starting the landscaping of the territory, it is necessary to take into account its location relative to the cardinal points, level, soil features and technical characteristics of water supply.
Before you start planting, you should understand the main buildings and their location. Such buildings will include not only a house and a building for storing various items, but also terraces, stairs and other elements.

Image by Zotx from Pixabay

Since the territory is extraordinary, all measurements must be done with high accuracy, otherwise everything will have to be redone, and this will require additional costs.
The lower layers of the soil cannot be touched, moved and do other manipulations, as all this can lead to erosion, and this is already dangerous.
Slopes with a rather large steepness must be decorated in a special way – by terracing. Terracing involves the creation of flat areas on a sloping zone through the construction of retaining walls and stairs. Many skillful UK gardeners say that the value of retaining walls cannot be overestimated. They not only hold the soil in place, but also complement the landscape design with bright decorative elements. The material for fortifications can be stone, wood, brick or concrete.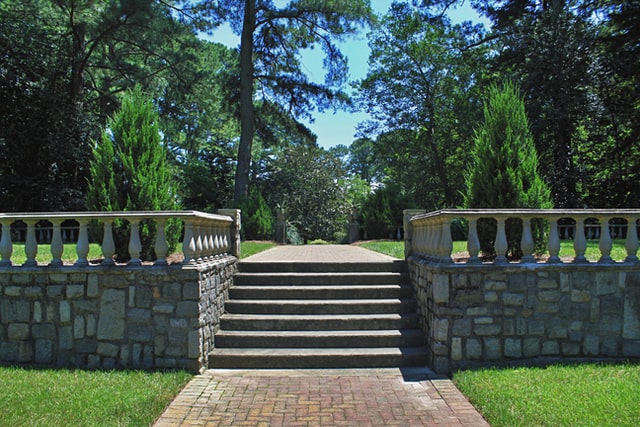 The transition from one terrace to another is provided by a system of paths and stairs. Climbing plants can be planted along the steps, which add drama to the landscape. Having poured a small layer of fertile soil, a vegetable garden is organized on the terraces, a garden is laid out, picturesque compositions are created – flower beds, ponds with a cascade, rockeries, secluded recreation areas.
 A tiered garden can be decorated brightly and unusually, if to follow all the technical rules to preserve the soil and prevent groundwater from destroying the result of painstaking work. Relief terrain is not a problem area at all, but a wide field of activity for people who are able to turn their house area into a work of art.