Garden slabs without due attention to their cleanliness quickly lose their attractive appearance. The material is easily covered with various kinds of dirt, especially since, due to its porosity, the tile is impregnated with them deeply enough. It is almost impossible to protect the coating from contamination, so it will have to be cleaned regularly. The following recommendations will help to perform this operation correctly without damaging the condition of the paving slabs.
The available methods of pollution control of paving slabs can be divided into several groups: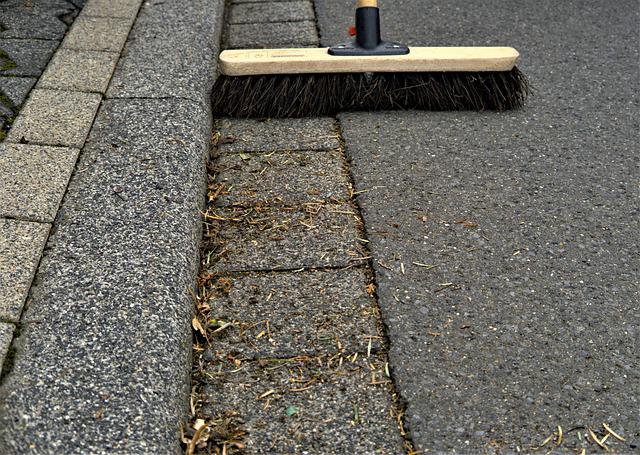 dry and wet cleaning. In other words: we sweep with a brush, soap and wash with a clean jet of water under pressure;
chemical methods. They imply both the use of household chemicals, and various types of acids, fat solvents and special formulations;
mechanical cleaning. It is carried out with the help of scrapers, abrasive skins, grinders, electric drills with attachments of mechanical brushes.
The easiest way to clean the garden slabs in the patio is to wash off the dirt with water pressure and soap. It is recommended to use a regular hose connected to the water supply. A cleaning should be done without jet wash as too much pressure is harmful both for the inter-tile seams and for the paving slabs themselves.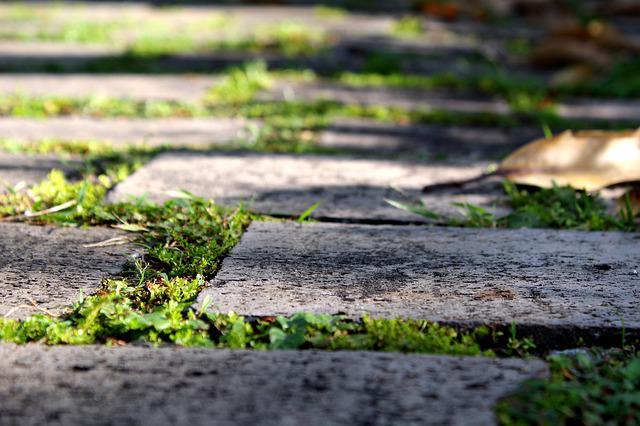 Experienced UK gardeners suggest performing the test in an inconspicuous place before using cleaning products, as the paving stones may be damaged by some chemicals. To test the cleaner, apply a small amount to the paving tiles in an inconspicuous place, and then wait a few minutes. Avoid cleaning products that change and dull the color of the tile. Clean the tile in small areas until all the paving stones are cleaned. Thoroughly rinse the garden slabs with water and a garden hose. Let it dry.  At this stage, you can impregnate the paving slabs with a water-repellent. Deep penetration will protect paving slabs from dirt and stains penetration for a long time, will increase the service life of the slabs.